Destination: Valencia, Spain
There are festivals… and then there are FESTIVALS. Las Fallas directly translates to "The Fires" and is a city wide celebration in Valencia, Spain that brings people together to a level like no other . If you have never heard of this iconic event, it's a small testament to how Spain parties. Here's the formula:
Hundreds of thousands of people packed in the city center
Spans nearly three weeks around the Spring Equinox
Explosive fireworks in everyone's hands (including toddlers, no joke!)
Custom designed and constructed Art Deco statues called "ninots"
Outdoor DJ's
Endless Paella
Loads of Vino
And ready… ready… FIRE
When you combine all of those things, you're bound to have a blast. We trekked down to Valencia in March of 2019 to grab a slice of culture, but also see what all of the hype was about. We'll do our best to give you a true rendition of what you would experience if you are interested in attending in the future. It's unfortunate that due to COVID, Las Fallas was cancelled, for this calendar year. But, you have plenty of lead time to get tickets in advance of next year — you will want to go after reading this.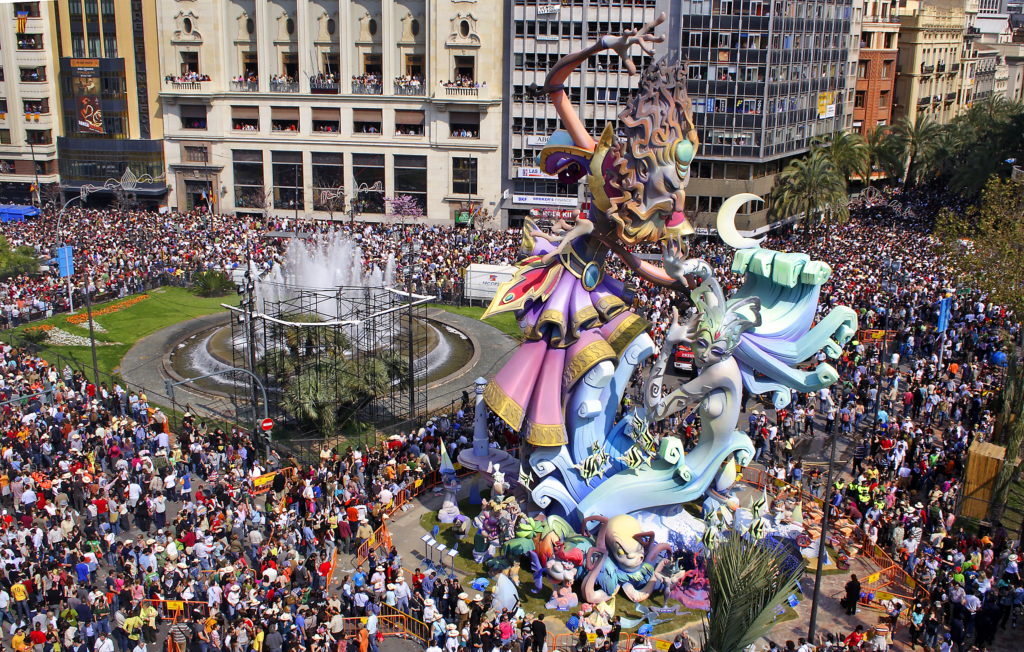 The Quick History
Like most great stories, there are nearly an endless amount of renditions, but the OG story of Las Fallas came from a carpenters tradition. When celebrating the spring equinox, they would burn several pieces of wood (called parots) that were used for hanging candles during the winters for light. As the warm weather approached, the parots were not needed anymore so they were burned – poof. The essence of the activity became a symbolic cleansing ritual as more and more carpenters considered this the norm. You can imagine a bon fire with several long pieces of wood intertwined with one another to create some fairly cool structures. As the ritual continued to evolve, so did the bon fires. With scraps, rags and other household items being thrown into the mix, the structures took on an almost lifelike appearance. Much like letting your imagination run wild looking at clouds in the sky, Las Fallas began tapping into people's core self expression.
The more "ceremonial" evolution came from the intervention of the church, which gave rise to the burning of the parots to coincide with the festival of Saint Joseph (patron Saint of Carpenters). So, taking theology blended with the light-hearted Valencian sense of humor, the parots became increasingly life-like and metaphorical. Each structure now came with a story, and the notion of "ninots" became the icon of the ritual. Ninots translates directly to "doll" in Catalan and Valenciana. Kids jumped into the mix and both the virality and fun levels rose into the tradition we know of today.
Fast forward to now, and Las Fallas is a political, socio-economic and social gathering that brings in tourists from all over the world. However, now, the ninots are erected to be up to 30 meters high! You'll see unbelievably creative artwork which can pay homage to local neighborhoods, major motion pictures, political movements or frankly plain beauty. The lead-up to the festival takes the entire year, and there are groups dedicated to fund-raising and organization of these massive statues.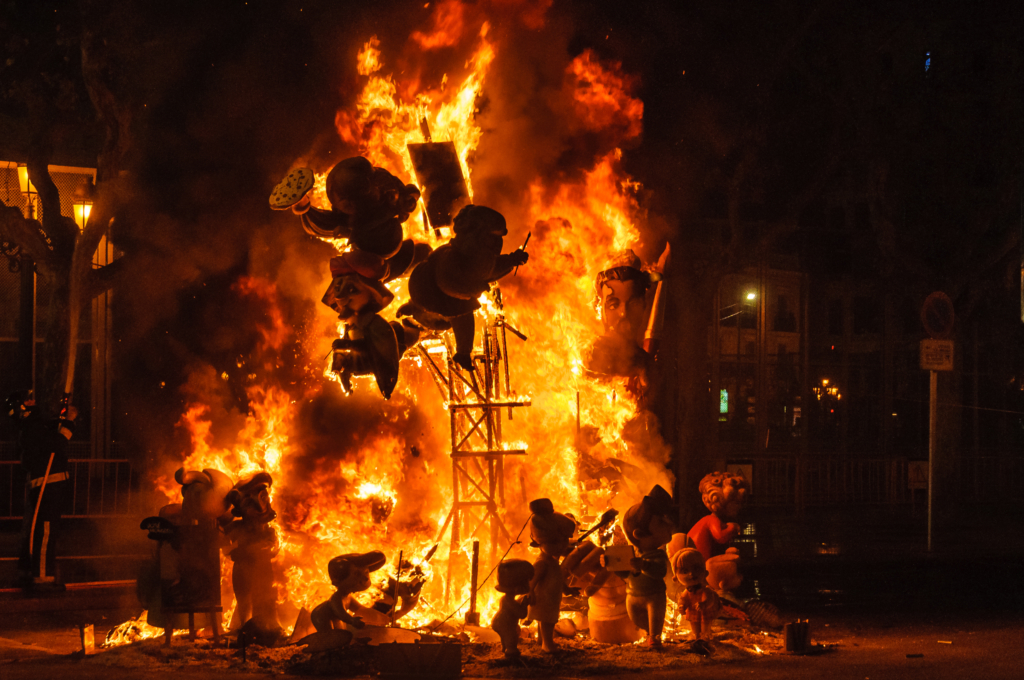 Get there early
If you show up to Las Fallas on the final weekend, it's going to be mayhem. We recommend getting to Valencia early, prior to the start of the festival so you can appreciate the Roman inspired architecture and actually see the city in all of it's glory. If you like paella, you've come to the right place, because Valencia is truly the home of paella. Think Philly Cheese Steak, and yeah… the bet is in Philly, same goes for Paella.
Book your flights in advance, and it's best to do your homework on finding an AirBnB or Home Away in the "Old Town" which is the epicenter of the festival. Since the festival is the week leading up to the Spring equinox, book your flight in advance of the crescendo.
What area to stay in (follow this proximity)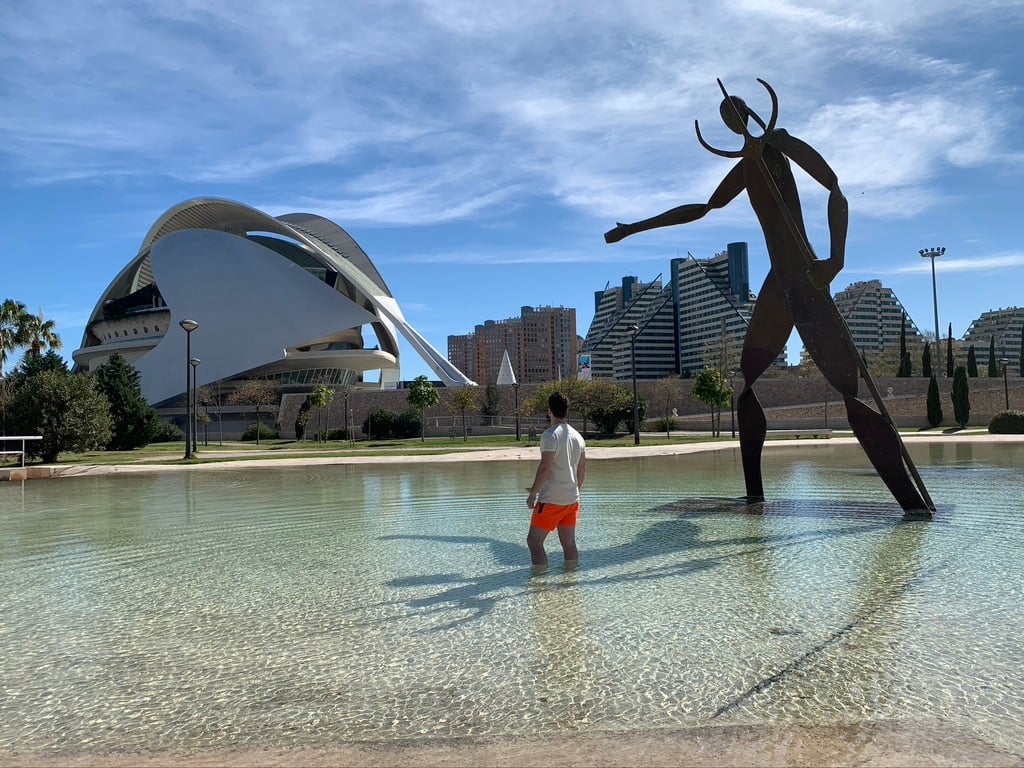 Duck and Cover
The booming echos of explosions extend for miles outside of the "Old Town" in Valencia. To be fair, as a tourist you're not sure whether you're listening to massive fireworks or cannon fire. There's consistently moments where you turn to your friends and are about to say, "those are still fireworks, yeah?", but you decide to just roll with it and hope for the best.
What's even crazier about constant explosions is that toddlers as young as 3 years old are launching M-80's at one another while parents are downing glasses of wine. I'm genuinely serious that kids are doing this, with both kids and parents giggling each time.
Let me say that again… young children are launching M-80's in the vicinity of each other. Whattttt!????
For reference, wikipedia: M-80s are an American class of large powerful firecrackers, sometimes called salutes.[1] M-80s were originally made in the mid 20th century for the U.S. military to simulate explosives or artillery fire;[2] later, M-80s were manufactured as fireworks. Traditionally, M-80s were made from a small cardboard tube, often red, approximately 1 1⁄2 inches (3.8 cm) long and 9⁄16 inch (1.4 cm) inside diameter, with a fuse coming out of the side; this type of fuse is commonly known as cannon fuse or Visco fuse, after a company responsible for standardizing the product. The tubes often hold approximately 3 grams of pyrotechnic flash powder. [3]
It gets pretty rowdy in the lead-up to the festival, but nothing beats being able to dance in the middle of a crowded street surrounding a DJ with everyone huddled up partying with their arms up. As the sun sets, the party gets turned up with every corner you turn, there's another vibe to experience. Restaurants are slammed indoor and outdoor, and it's almost like an outdoor biergarten mashed together with Miami music week.
Side note, even if you're someone who doesn't typically throw fireworks, or don't want anything to do with them — Spend some time doing it in Valencia! Watching people 3 to 4 feet away from you jump in absolute fear when you sneak an explosion next to them is unreal. A major jerk move, but everyone is doing it. Does it make it right? No. But, fun? Heck yeah.
Statues of brilliance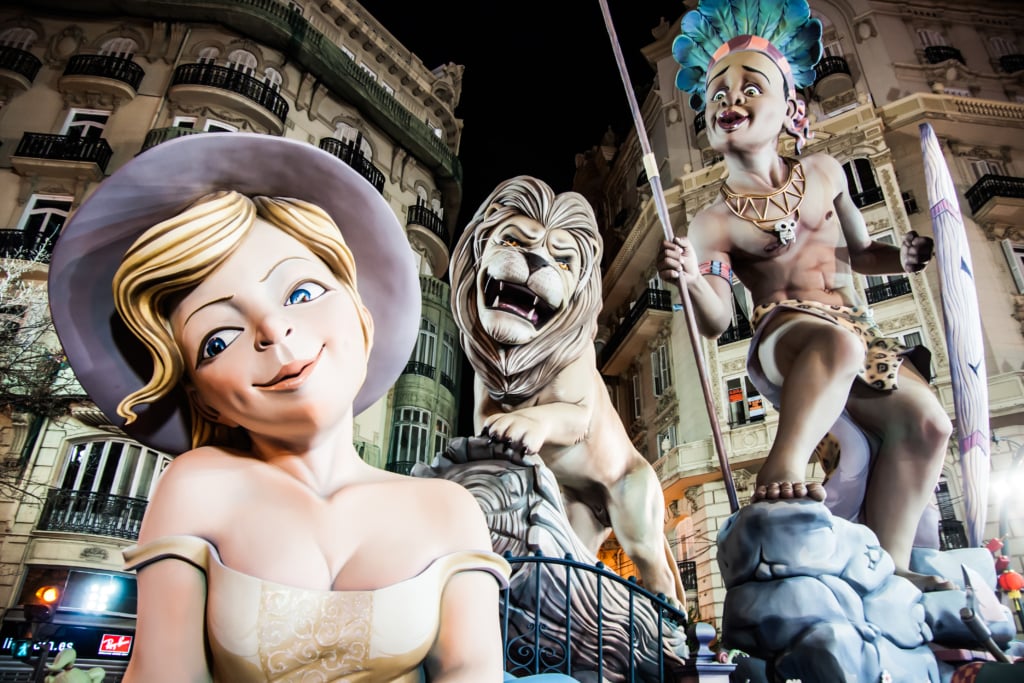 As mentioned earlier, the artwork and ninots are the underlying draw for the entire premise of the festival. You'll see everything from iconic movie themes like Casablanca, to new-age themes like The Avengers. Special designers will pull social trends and political references to build metaphors in an attempt to rally people together and inspire a movements. It's a shame all of these statues end up getting burned to the ground, but for those that win, their beautiful prize is tucked away in a museum for years to come. The level of detail and expression embedded into the statues will blow your mind. I recommend just googling "Ninots in Valencia" and seeing all of the images that come up from prior years.
Pro-tips:
Bring ear plugs (they help while awake and trying to sleep)
Be ready to stand and walk the entire trip you're out there
Have plenty of space on your iPhone for pictures and videos
Be social, and try to speak the language (they speak Catalan or Valenciana, but Spanish works just fine)
Travel outside of the central city to buy alcohol and wine to bring back to your place
Find a restaurant, and stick to it by becoming a short-term regular (they'll welcome you in like family)
Make sure you make it to the beach (even if it's cold in March)
Try to piggy back a trip where you see another Spanish city if possible
The festival isn't enough of a trip on it's own, it tires quickly
It gets cold at night, dress appropriately
Look up tourist attractions outside of the festival
Don't expect to walk freely on peak days, it's madness
The fun is like a slow release tablet
Las Fallas comes with a ton of things that annoy most humans i.e. incessant loud noises, massive crowds, long lines, overpriced food and drinks, screaming kids. So, you're bound to feel that clenching fist feeling and rising frustration at times, almost to the point where you're questioning if you're having a good time or not. But, once your trip is over and you've made it home the memories start to pop in your mind creating random smiles.
My theory on why this happens is because your body is flooded with so much stimuli throughout the week. If you are in Valencia for more than a few days, you're being exposed to an infinite supply of artistic expression. Combine that with trying to tick items of your tourist list, eat local staples and make new friends. It's difficult to stay present in environments like this, but once your neurons have a chance to catch up and process the memories, you'll be happy.
This is genuinely what happened to me, and now looking back to last year, it was a really awesome festival and likely something that I'll never experience something quite like it in my life.